Team Building Ideas & Everyday Fun Activities
Whether you're planning a team building event for a hundred people or a small get-together with friends, you'll need ideas for fun activities for adults. Beyond simply a catered meal or frayed-around-the-edges escape room, it's time to see your favorite museum, attraction, or historic neighborhood anew.
We stage a couple thousand in-person scavenger hunts and team building activities a year, and we've been doing it since 1999. So you can trust us to help you out with these five fun ways to put a different spin on exploring museums and neighborhoods.
Do It Through Food
"Dine and dash" is usually a bad thing: eating a meal and then ditching the restaurant without paying the check. But a food tour scavenger hunt puts a much better spin on the phrase. If you want to arrange a snack crawl, choose a foodie-friendly neighborhood or landmark, such as Seattle's Pike Place Market, and plan out a series of quick-service eateries to visit. Or you can join one of our Munch Hunts.
Full of surprising secrets and delectable snacks, Munch Hunts are available in New York's Greenwich Village, Lower East Side, and Chinatown, as well as in Philadelphia, Los Angeles, San Francisco, Seattle, Washington, D.C., and beyond. They'll tempt you with some of the tastiest treats in town while you build up your appetite searching for answers to tricky questions about other neighborhood highlights.
Solve a Murder Mystery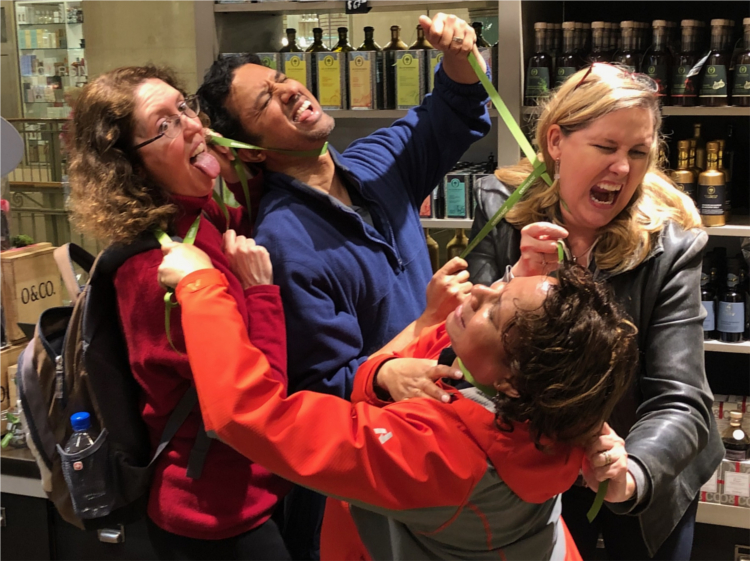 A Watson Adventures staffer has turned up dead. A slain museum curator has left clues in his own blood. A mad genius is set on killing you and your group. They're all the start of different murder mystery games in museums and neighborhoods around the country. Hidden details in art or local landmarks will lead you deeper into each mystery, unraveling tales of betrayal, revenge, supernatural curses, and more.
You can even solve a murder mystery almost anywhere, anytime, on the Murder Mystery Mayhem Scavenger Hunt.
Try Trivia on the Go
If you want an experience similar to our many Trivia Slam games, but in a specific place, build your own trivia quiz. Say your group wants to visit the Metropolitan Museum of Art in New York City. Like many museums these days, the Met offers an interactive map. Using that, you can plan ahead to see certain works of art, do a little research, and write up a list of trivia questions about them. Present the question to your group when you reach the gallery, or give each smaller group the trivia list to complete on their own as they go.
This sort of game works great in any location you can research a bit in advance. Of course, you'll have to remind everyone that, this being a fun activity for adults, a no-Googling honor system is in place.
Volunteer for a Good Cause
Give back to the community and strengthen your team's bonds through a shared purpose. Identify a local charity or non-profit organization and volunteer as a team for a day, or perhaps a weekend. It could be a beach or park clean-up, a community garden project, helping staff a local road race, or assisting at a local shelter. Knowing you've helped beautify a park or made your neighborhood a better place will definitely help you see it in a new light. (If this doesn't sound as "fun," treat yourselves to a meal or happy hour as an extra reward.)
Strike a Pose
Collaborating with teammates to create memorable photos based on themed prompts is a huge part of our Grab 'n' Go scavenger hunts, as well as other games. They can be enjoyed in just about any neighborhood you like, and they leave you with a photo gallery full of keepsakes.
Playing the game in Chicago? You might act like you're literally being blown away by the Windy City. Headed to the zoo? Brush up on your animal impressions. Bringing your colleagues to a waterfront locale? Get ready to act like you're at the beach.
Find More Fun
Contact us to learn more and start planning your team building scavenger hunt or virtual game today.