A team-building game with humorous twists
If you're looking for a good, old-fashioned scavenger hunt in Franklin, Tennessee, we have one—with very unusual challenges that will exercise your brain and tickle your funny bone. Your tasks may involve strange uses for food, new lyrics for old songs, people in any kind of uniform, strangers wearing valuable words, secrets about local landmarks, and more. If you've been on scavenger hunts where you've had to collect boring things like clothespins and obscure CDs, you're in for a surprise and a treat.
Teams fan out to tackle such challenges as…
Take unusual team photos
Get creative and keep your eyes open as you explore charming downtown Franklin and try to meet the requirements of diverse "photo op" challenges. Everyone has to get into the picture (except the person holding the camera, of course). We've designed them to allow room for creativity while also delivering dramatic visuals (not just shots of people standing around, smiling, and pointing). You might be asked to demonstrate a group member's superhuman powers. Or treat a staircase as if it's a carnival ride. Or interact with another team while mirroring each other.
Participants use their phones and our browser-based app. You'll get to see the other players' pictures and download them afterward.
Find or create unusual items
As in a classic scavenger hunt, you'll have to locate or create unusual items. But in our version, you might encounter these tricky tests: Can you create and name an amazing new food by combining two unlikely foods? How about an appropriate trophy for the hunt winners? Three items that rhyme? Something improved by being broken? You'll be surprised by the results that come from great teamwork.
Crack a code to decipher a mystery message
Your hunt materials will include a bizarrely coded message. What the heck does it say? To crack the code, you'll need to solve crafty, fun puzzles, involving trivia questions, pop music, and a "pigpen cipher." Can you piece together the key that unlocks the mystery message?
Locate the Hunt Host for a surprise bonus challenge
At a designated spot in the hunt area, the Host will be waiting for you, ready to spring a tricky, humorous visual puzzle for you to ponder. It could involve unusual celebrity pairings…or musical snippets…or international maps…or strangely altered art.
Custom challenges for your group
We can tailor the hunt to your needs. Tell us what you want to highlight and we'll weave it into the game. Perhaps someone you want to celebrate? A theme or slogan for a new campaign? Hidden talents in your group? Talk to us! We like a challenge.
Care to take a bite out of crime? Check out the Murder Mystery Mayhem Scavenger Hunt.
What happy clients are saying
A 5-star review on Google: "We hired Watson Adventures to host the Grab 'n' Go scavenger hunt for a teambuilding event in our local downtown area. We chose to pay for an on-site host and it was well worth it. Kim, the host, was fantastic, well organized, very helpful with the game app, and added even more fun to the game with opportunities to earn extra points. Our team had a blast!! We thoroughly enjoyed getting out from in front of our computers to spend time together in this fun and creative environment!"
"The Grab 'n' Go Scavenger Hunt was so much fun! All of the teams were engaged and working together. We couldn't have asked for a better team-building and celebration event." —Brittney Gallardo, Office Manager/Executive Assistant, Texture by Next Issue Media
Contact us to learn more about the Fantastic Franklin Scavenger Hunt—and find more team-building fun in Tennessee!
---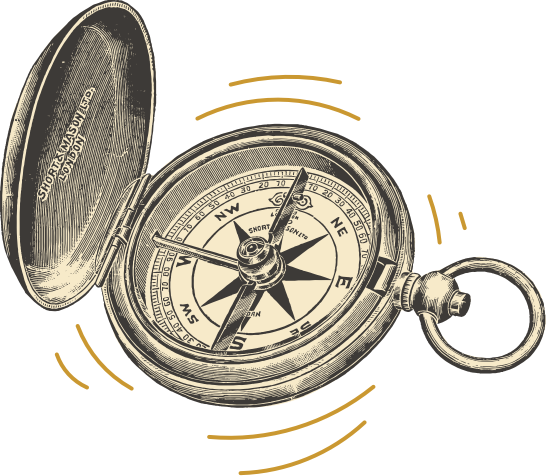 Beware: there's a killer in your midst
Someone playing this game with you is a bit of a Jekyll and Hyde. His or her good side knows nothing about the evil side—and the evil side has challenged you to prevent your own murder. Everyone in your group has been poisoned, and the clock is ticking down on your time left to live. To reveal the killer's identity, you'll have to complete a series of photo challenges, solve interlocking puzzles, decipher coded text messages, and more. If you succeed, you get the antidote. If you fail…well, you know.
If you love escape-room games, you'll love this scavenger hunt. But even better, you won't be locked in a room for an hour: this game can be played almost anywhere. 
An in-person murder mystery for any location!
We have a variety of versions, depending on where you want to play. Such as…
A city, town, or neighborhood
A science or history museum
A zoo or aquarium
An office building
A school or campus
A murder mystery scavenger hunt perfect for team building
Here's a game that will help you solve the mystery of how to entertain a diverse group of people while boosting morale and teamwork. It's perfect for any private party or a corporate team-building outing of any size. Our clients who have enjoyed this game include T-Mobile, TD Bank, Boehringer Ingelheim Pharmaceuticals, Michigan in Washington, and others too numerous to mention.
What delighted clients are saying
"Everyone had a great time at the hunt! We are all still talking about it." —an electrical engineer whose group played the game at the Houston Zoo
"A HUGE THANK YOU. Everyone had a BLAST and your hosts were FANTASTIC! Thank you so much for another great event!!" —an office coordinator in Los Angeles
"We had an amazing time and will be in touch for the next hunt we'd like to do in the near future! Tokia [the hunt host] was amazing, and we'd love to work with her again!!!" —an organizer for a group in Washington, DC
The hunt's afoot! Contact us to learn more—and find more team-building fun anywhere!
---