Amp up the adventure…
…on the leafy streets of downtown Coconut Grove. On this group game, you'll play your way through a series of challenges in this scenic setting: you'll take funny and creativity-stretching Team Photos, create or collect odd items, match wits for a surprise bonus challenge, and follow clues to answer tricky questions about interesting locations.
You'll trek from the Woman's Club to historic Charles Avenue, strut through Peacock Park, spy historic homes, crack a sailor's code, and more.
Even if you don't know a thing about Coconut Grove, you can still win. You just need to keep your eyes open, use your wits, and work well with your team.
---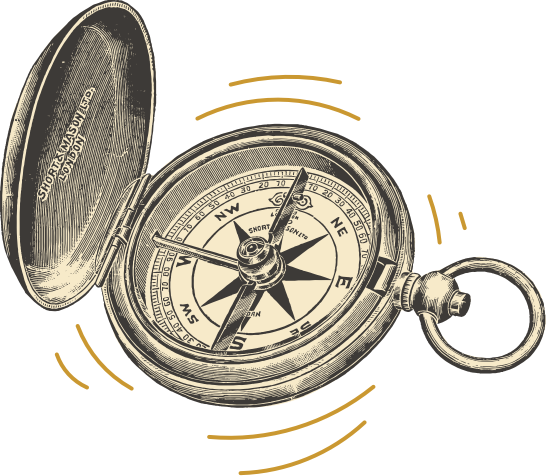 A maniac has run amok in the mansion…
… and it's up to you to stop him—and get out alive! On teams, you'll tackle a series of brain-bending puzzles and noodle-melting riddles, all in the hopes of discovering the antidote to the poison that's slowly killing you. (Oh, did we forget to mention that you've been poisoned at the start of this hunt? Sorry!)
Along the way, you'll discover the secrets of the enigmatic Vizcaya Museum & Gardens, a former villa and an icon of Miami opulence. Inspired by the art and architecture of Venice and Tuscany, wealthy businessman James Deering's 70-room winter palace hides bizarre details around every corner. Our clues will lead you to marvel at magical telephones, dancing tapestries, a buffoon's bedroom, conniving cupids, a volcanic sitting room, and so much more—and that's just in the main house! The grounds include rolling gardens, dozens of divine statues, a shattered stone ship, and sweeping views of Biscayne Bay.
But don't worry: you don't need to know anything about Vizcaya to escape with your life. All you need is good teamwork, an eye for details, and some comfy shoes.
If you'd like a more easygoing and full-fledged tour of this remarkable place, ask us about the Vizcaya Museum Mania Scavenger Hunt.
---