Connecting Colleagues in Different Regions and Countries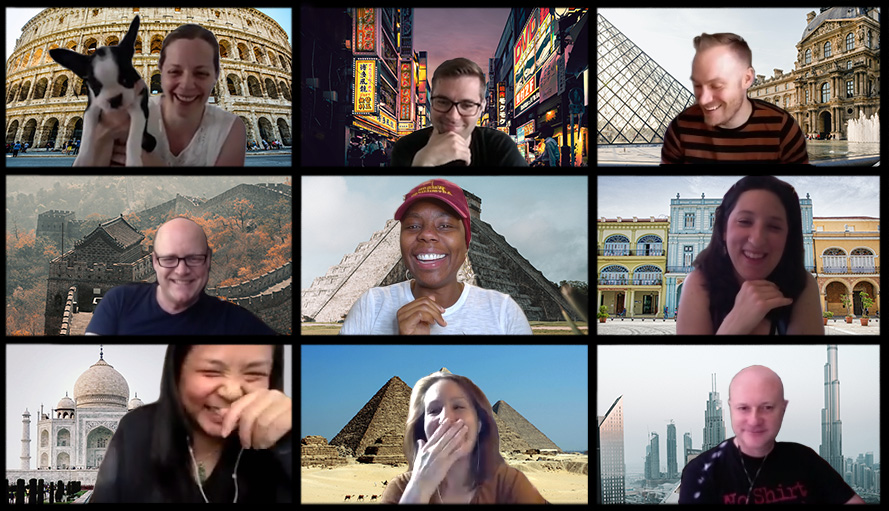 When the Coronavirus Age began, teams pivoted to remote work, and companies that specialize in team building activities pivoted to remote play. Some companies now offer team building games and activities that use Zoom. But how do you know how well they can handle connecting colleagues across time zones and continents?
We've covered what to ask a company that offers team building games for remote teams, but far-flung teams and groups with international offices need to think bigger. A company that can handle a Zoom game for a small Boston office sheltering at home isn't necessarily prepared for a group of 300 people in multiple time zones and countries.
In 21 years of offering team building games and scavenger hunts, we have worked with countless international groups, and groups in the U.S. for whom English isn't a first language. With our experience, we've developed new virtual games for international groups, including the new Around the World Scavenger Hunt, Around the World: The Asia Pacific Game, and the Escape to London Virtual tour Game.
Here are a few tips on what to ask a vendor before booking a remote team building event for teams in different times zones, or for a remote international audience.
Does the vendor have experience working with international audiences?
This should probably go without saying, but you might be surprised how rarely potential international clients ask it.
The type of international audience matters too. Is the client based in a different country, or countries, than the vendor? Or are both the client and vendor based in the U.S., and the client is planning an event that will include colleagues for whom English isn't their first language?
Each scenario carries different complications an inexperienced vendor might not anticipate. For example, groups in other countries might not enjoy a game full of America-centric references, while a multilingual group might have trouble with complicated wordplay or idioms.
Can the vendor handle any time zone?
In a time of using Zoom and other video-conferencing apps to connect remote teams, this question is more relevant than ever. Make sure your vendor is prepared for groups in different times zones, whether in the U.S. or abroad. If your remote team in Perth, Australia, wants a 3 p.m. game, is the potential New York City-based vendor prepared to supply a host or support at 3 a.m.?
Can the vendor offer translated games?
Another no-brainer, in theory. If the vendor's virtual games and remote team building activities are usually offered in English, can they be translated into other languages? If you have a group of non-English-speakers, you want to know well in advance whether the particular game you have an eye on can be translated—and what sort of fee that is likely to entail.
Over the years, we have translated various of our scavenger hunts into Spanish, French, Mandarin, and more.
If they can't be translated, how much English do the participants need to know?
Say your preferred remote team activity can't be translated. A translator might not be available, or the translation fee might be too high. In that case, how much English do your colleagues need to know to get the most out of the game?
Make sure to ask whether the game involves puns, idioms, or other complicated wordplay. Also ask about slang or regional references. And then honestly assess how well your group can handle the language level. If everyone struggles with the language in a game, no one will have fun.
Do certain games of the vendor work better for international groups?
This goes hand in hand with the previous question, because language isn't the only barrier to consider. Take our Trivia Slam Games, for example. Even with slightly simplified language, a trivia game full of generally American cultural references won't fly with an international audience.
That's why we created an International Edition of our Trivia Slam Game, with globe-spanning trivia, references, and language for anyone to enjoy. So ask your vendor which remote games they recommend for your specific group.
~
Lead image photo credits: Angkor Wat photo by Taylor Simpson on Unsplash; Great Barrier Reef photo by Giorgia Doglioni on Unsplash; Big Ben photo by Jurica Koletić on Unsplash