Bring Your Hybrid Team Together
Hybrid offices and remote work setups can sometimes make it challenging to build a strong team dynamic. How do you build rapport and convey a sense of company culture to WFH and new employees when you're no longer in the same office every day? It can be tough, but it's perhaps more important than ever. With the right team building activities, you can definitely boost morale.
The Importance of Boosting Morale
Imagine a team as a well-tuned orchestra. Each member plays a different instrument, and together they create a symphony. Now, if some members are working from the office while others are logging in from the comfort of their homes, it's like having musicians in different rooms. Even more, some of the musicians have never even been in the same room with each other. To create harmony, you need to ensure everyone is on the same page of sheet music.
In a hybrid workplace, the physical and technological distance can lead to a sense of isolation. Team building activities act as the social glue, bringing everyone together and making them feel like a team, even when miles apart. So here are some great ideas for fun corporate team building activities that work whether your group is hybrid or all in one place.
Idea 1: Experience Virtual Trivia Games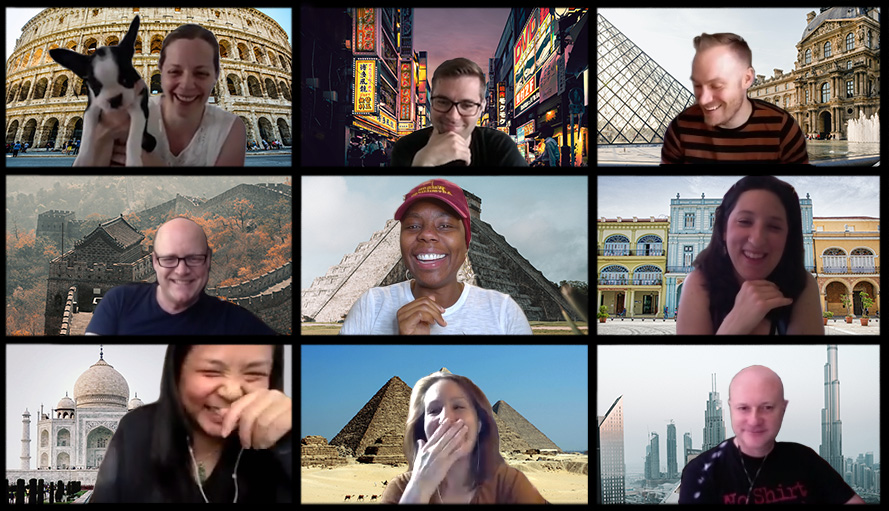 Tackle trivia together, no matter where your colleagues are, on one of our many virtual trivia games. Each game consists of five rounds of fun challenges, ranging from name-that-tune audio rounds, fictional dating profiles, trivia with visual cues, and more.
You won't need a bunch of trivia geniuses to play, either. No matter the theme, each game is designed so that anyone can compete and win. So whoever plays will love Cheers! It's the Virtual Happy Hour Trivia Game, for example, and your whole group will be wowed by the Fascinating Facts Trivia Game.
Idea 2: Try DIY Trivia
Whether you devote an entire event to it or sprinkle it into meetings, groups everywhere can play trivia. You can put together trivia about famous movies or surprising events in history. Or to put a personal spin on it, ask colleagues ahead of time for silly or embarrassing stories, and make a game out of those. Then compete in groups or individually, and award the winner with a prize.
Idea 3: Arrange a Virtual Coffee Klatch
Simply chatting over a cup of coffee can be a great opportunity for colleagues to catch up and build rapport, even if they have never met in person. Schedule a morning meetup among in-office and remote workers, or carve out time before a regularly scheduled meeting, and devote the time entirely to casual conversation. No shop talk allowed!
Idea 4: Solve a Puzzling Murder Game
From the mind of best-selling author A.J. Jacobs comes Puzzled to Death: A Virtual Game of Murder Mystery Puzzles, a twisty, challenging murder mystery. Someone has murdered the owner of a beloved local board game store, and the killer has created mini-games and puzzles with clues to their identity. Naturally, your team must crack the case and uncover the killer! Visit the blog to find out more about this surprising game.
Idea 5: Organize a Day of Gaming
Consider arranging a board game tournament, or simply a gaming day. Bond with co-workers over a game of Monopoly, Scrabble, or bird-watching. Or if some colleagues are game to try it, get creative and spend an afternoon learning the ropes of Dungeons & Dragons. Want something a bit more high tech? Hook up a Nintendo Switch to the conference room TV and play some multiplayer games like Mario Kart, or play online with colleagues in another location. Whatever you choose, a gaming day is a low-key, low-cost chance to bring colleagues together.
Idea 6: Play a Game at the Same Time in Multiple Locations
Many of our games, including the Grab 'n' Go Scavenger Hunt, can be enjoyed no matter where your colleagues are. Players spread across different cities, states, even countries can play the same game at the same time, Zooming or Facetiming with the Host and other players. Then everyone "gathers" at the end to celebrate the winning team.
Idea 7: Snack Together
Incorporate food into your event, whether you all get together around a table IRL, or your team gathers virtually with some food of their own. The simplest option is to let colleagues expense their meal for the party (within reason, obviously).
If you want to get a little more into it, you can coordinate snacks or meals based on a theme. You can also arrange to send your team a box of snacks, either based on a theme or simply full of fun treats, ahead of time. Just check into food allergies before sending anything.
Idea 8: Don't Forget the Beverages
There are plenty of fun ways to zhuzh up the libations for those who choose to. If you're going virtual, have everyone make their own favorite drink at home, which gives them each a chance to talk about their creation. Or encourage your team's creativity by sending each team member a mixology kit. You can even hire a mixologist for an in-person or virtual event. In the latter case, virtual mixologists will talk participants through making different cocktails and explain their history and cultural significance.
Find More Fun
Contact us to learn more and start planning your corporate team building scavenger hunt or virtual game today.